FALKEN's latest generation fagship tyre. Featuring an innovative, new compound, designed to maximize safety and enhance driver confdence.
Outstanding wet and dry handling.
Confdence-inspiring levels of safety and control.
Exceptionally stable in high-speed corners.
Shorter braking distances.
Tyre label / efficiency classes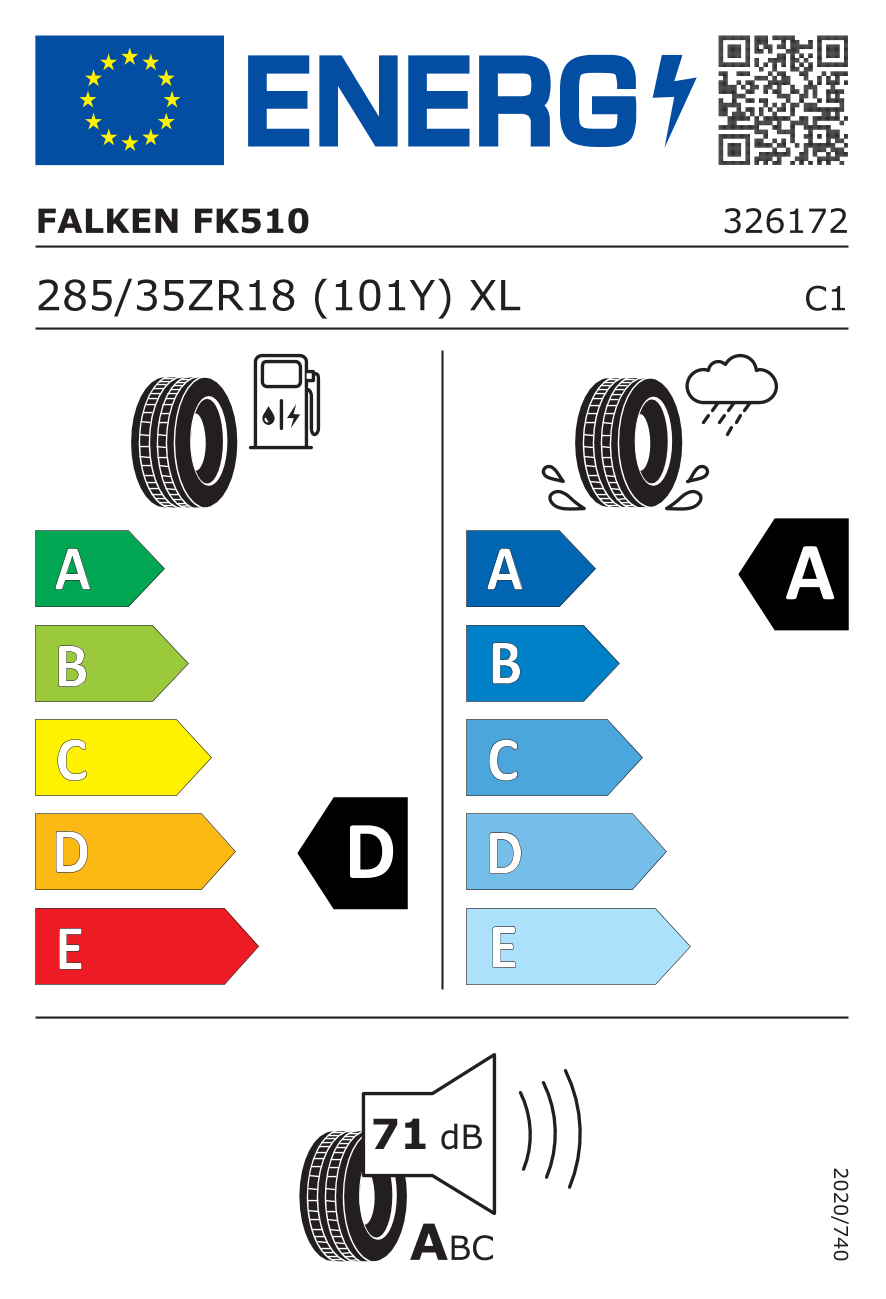 Profile: AZENIS FK510
Test results
07/2021
promobil.de 07/2021
235/55R17 -
03/2021
ACE Auto Club Europa 03/2021
225/45ZR17 -
03/2021
ARBÖ 03/2021
225/45ZR17 -
03/2021
GTÜ Gesellschaft für Technische Überwachung mbH 03/2021
225/45ZR17 -
03/2021
sport auto 03/2021
275/35ZR19 -
03/2021
AUTO BILD - sportscars 03/2021
265/35ZR20 -
02/2021
Auto Zeitung 02/2021
225/40ZR18 Y
02/2021
ÖAMTC 02/2021
225/50ZR17 Y
02/2021
TCS - Technik, Umwelt und Wirtschaft 02/2021
225/50ZR17 Y
Customer Ratings AZENIS FK510:
Falken Tyre Europe GmbH is the European subsidiary of Japanese tyre manufacturer Sumitomo Rubber Industries Ltd. From its headquarters in Offenbach am Main, Germany, Falken Tyre Europe oversees the marketing of a complete portfolio of tyres for cars, trucks, vans and SUVs as supplier of OEM products and for the European aftermarket. The company has built up a sales network of around 8,000 tyre dealers throughout Europe, which act as our partners for sales and fitting of our quality products.
*List prices, if included, are a guide price used to determine the markup between tyre manufacturer and distributor.
**Prices include VAT and delivery within Germany.
Sollten Sie nur einen Reifen bestellen, so berechnen wir einen Aufschlag von 3 EURO zusätzlich. Bitte beachten Sie den Preisaufschlag von 6.49 EURO pro Reifen, wenn wir auf eine Insel liefern müssen.